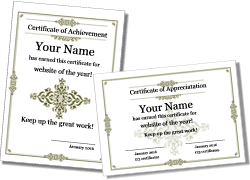 Reward somebody today! 123 Certificates offers free awards and certificate of appreciation templates to print and certificates of completion. Use these to make employee of the month certificates, course completion certificates, certificates of merit, honor or excellence. You can edit the sample certificate wording and choose between landscape or portrait styles.
Certificate of Appreciation Templates and Certificates of Completion
:

For more formal certificates:
New! from the creator of 123 Certificates:
add your picture to printable certificates
formal certificates
school certificates
cool certificates
more

You are free to use any resource from this site as an end user. You may not redistribute, copy, modify, transfer, transmit, repackage, charge for or sell any of the materials from this site. 123Certificates.com reserves the right to terminate or make changes to this agreement for any reason and without notice.
Copyright © 2006 - 2018 123 Certificates | restrictions | privacy | Mark Cox | about