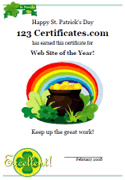 Reward somebody today! 123Certificates offers free printable award templates and certificates with St. Patrick's Day certificate borders. Using the certificate maker, you can print St. Patrick's Day certificates for students, friends, family, party guests, anybody. Reward the student of the week, the player of the game, the spelling bee winner, teacher of the month, a student that has worked hard, you can even reward yourself! It's as easy as 1, 2, 3!
Take a look at the previews. If you like one then make it up. Just click on any of the previews to get started.
For more St. Patrick's Day reading awards check out the St. Patrick's Day bookmarks: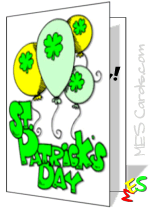 More free St. Patrick's Day Printables:
St. Patrick's Day Cards from mescards.com!
- You will find 20+ different styles of St. Patrick's Day greeting cards to choose from. They are 100% customizable and very simple to make! Or print blank cards and write them yourself.
St. Patrick's Day flashcards
- crosswords, handouts, worksheets and other printables
St. Patrick's Day worksheets
- free reading, writing worksheet makers, word search, crossword, maze generators, dice, dominoes games and more
Free St. Patrick's Day coloring pages
St. Patrick's Day Sticker Charts
- printable St. Patrick's Day stickers and sticker charts